Venue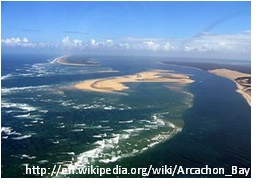 Arcachon is very famous french town situated in the magnificent area of the Arcachon Bay, Western Atlantic Coast of France, and 60km away from Bordeaux.
The arrival of the participants is scheduled to Saturday May 16th, 2015 afternoon, followed by welcome drink and dinner.
The scientific program extends to 2 full days (May 17-18th) and one morning session on May 19th.
The departure is scheduled to Tuesday May 19th 2015 afternoon, after lunch.
The accomodation (3 nights) will be organized in the hotel "Le Dauphin" in Arcachon:

Hotel le Dauphin

7, avenue Gounod

33 120 ARCACHON

FRANCE
email:
tél. 05 56 83 02 89 - fax 05 56 54 84 90

http://www.dauphin-arcachon.com/en/

nicely situated (link to Google Maps here) and facing Bassin d'Arcachon (for more information click here)


To reach the Hotel "Le Dauphin"

By road:
Less than one hour from Bordeaux (60km) Starting from the Bordeaux ring road, take exit 15 for the A63 motorway in the direction of Arcachon/Bayonne. Take exit 22 for the motorway A660 in the direction of Arcachon. Follow the N250 in the direction of Arcacchon centre, at the entrance of the town you will arrive at a large roundabout with a statue in the centre (Place de Verdun). The hotel Le Dauphin is 200m off the second exit.

By train:
The hotel is just 200m from the train station. There are TGV trains from Paris to Arcachon, and local trains (TER) from Bordeaux 'Saint-Jean' railway station to Arcachon (duration 50'). Departure from Bordeaux railway station every hour: 14:05, 15:05,.., 22:05 (download timetable here)

Leaving the train station on foot, head to the right in the direction of the large roundabout (Place de Verdun) with a statue in the middle. The hotel is on the second road on the left.

By plane:
From 'Aéroport International de Bordeaux- Mérignac', Departure level, Hall B, take a 30'DIRECT shuttle to Bordeaux 'Saint-Jean' railway station (duration 30'). Departure from airport every hour: 06:00, 07:00,.., 23:00. Then follow the above 'By train:' instructions. Please also note that the car rental at the airport is reasonably cheap; it could be an alternative solution with respect to train.